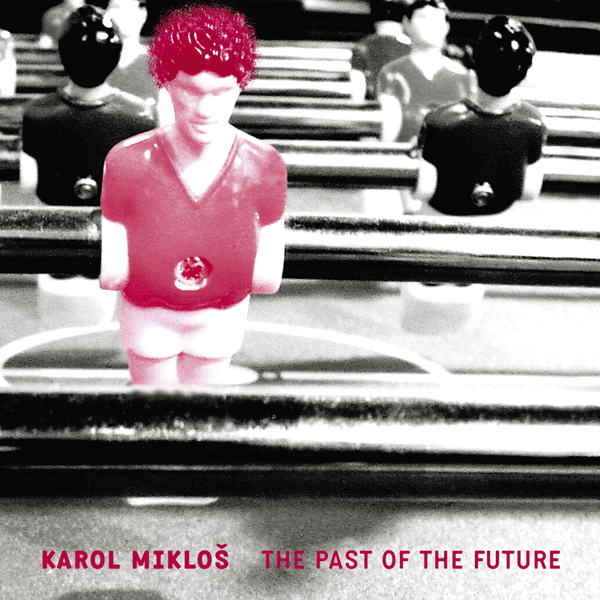 DR-009
Po celých šiestich rokoch od poslednej nahrávky Vis-á-Vis prichádza KAROL MIKLOŠ s novým albumom, ktorý je vyzretejší, farebnejší a úprimnejší ako čokoľvek, čo vydal predtým. The Past Of The Future je, ako to už sám titul napovedá, plný bystrých slovných zvratov a ako sme už u Karola Mikloša zvyknutí, nadpriemerných textárskych vypovedí. Hudobne sa album k poslucháčovi prihovára univerzálnym jazykom sofistikovaných, nostalgiou pretkaných gitaroviek, prichutených pestrou kolážou digitálnych zvukov. Od prvého do posledného tónu je však servírovaný s vervou a nasadením a nikdy neskĺzne do trúchlivej nudy. Spolu s hosťami sa pôvodné Miklošove výhradne elektronické nahrávky podarilo v jeho domácom štúdiu posunúť do akustickej polohy, elektronická alchýmia ustúpila do úzadia a stala sa organickým elementom albumu.
---
CD
Download
---
iTunes
Spotify
Deezer
Bandcamp
Google Play
---
Album
21.05.2008
38 min.
Recorded, mixed and produced by Men at Sound, Trenčín, Slovakia.
Additional production by Andrej Gmuca.
Mastered by Soundshine.
Cover by Ria Bobotová.
Artwork supervised by Fluidum.
Tracks –
Recenzie –
Malebná, atmosférická elektronika přizdobuje melodické kytarové písničky s odérem new wave i letmého neo-folkového oblouznění. Mikloš, posazen někde mezi Gahanem a Morisseyem, má osobité zabarvení hlasu, je empatický, uvěřitelný, nehrozí citovou podpásovkou.
Celá recenzia
Šest let vznikala nová deska Karla Mikloše, kterou předznamenala písnička "Insane". Slovenský tahoun alternativní scény natočil velmi podmanivou nahrávku. Máte radši minulost, nebo vyhlížíte budoucnost? "The Past Of The Future" pro vás má odpovědi. Karol Mikloš natočil desku, která letos rozhodně patří k tomu lepšímu. "The Past Of The Future" je vypracovaná skulptura talentu tohoto sympaťáka.
Celá recenzia
The Past of the Future je teda bez exportných úmyslov úplne evidentne určený pre poslucháča sídliaceho v strednej Európe, najlepšie v tej časti, ktorá sa na svetovú hudbu mohla štyridsať rokov pozerať len spoza železnej opony. A je to album dobrý.
Celá recenzia
Výsledkem je průzračný a lehký sound, který si nic nezadá s aktuální světovou produkcí.
Celá recenzia
Pribudlo elektroniky, ale Miklošova vízia zvuku niekde na pol ceste medzi Morrisseym a Depeche Mode sa nemení.
Celá recenzia
Zo skladieb cítíť jeseň, akoby rozprávali o konci leta, no stále neprešli k snehu, akoby stáli na rozhraní dvoch krajín, rozhodujúc sa, kam ďalej. Akoby piesne boli lístie, ktoré Mikloš zo seba zhadzuje.
Celá recenzia
Kytarový sound alba dochucují podpůrné digitální zvuky a také ležérny zpěv, k němuž si protagonista vybral angličtinu a vládne jí přesvědčivě. Chvílemi mrazí a chvílemi to swinguje. Nejlepší je pak Mikloš v okamžiku, kdy se obé spojí. Zajímavá práce.
Celá recenzia
---