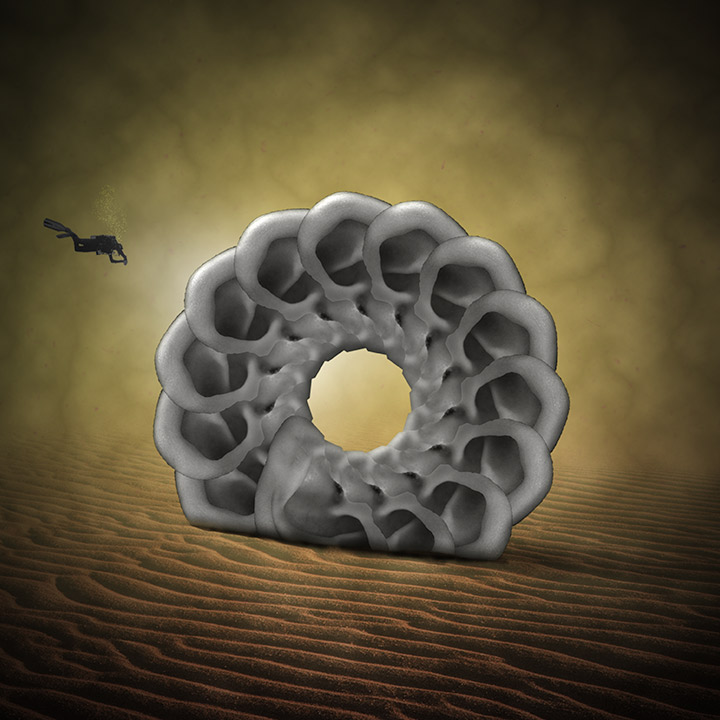 DR-073
Zberateľ analógových zvukov ANALOGRUNNER sa rozhodol zrekonštruovať staršiu kompozíciu, zloženú pôvodne za pomoci jeho obľúbených "vintage mašiniek" Nord Modular G2 a Alesis MMT-8. Impulz prišiel počas Kolorika turné, na ktorom ho na koncertoch sprevádzala aj jeho dvorná vokalistka Possimiste, pôvodom estónska speváčka žijúca na Islande. Práve od nej prišla inšpirácia fiktívnym podmorským svetom, plnom fantaskných bytostí, ako metafora k introspektívnym pocitom emocionálneho vyhorenia s nástojčivým pocitom "vynorenia nad hladinu" počas tiahnucich sa období depresie. Keďže sa jednalo o staršiu kompozíciu, bolo potrebné kompletne zrekonštruovať pôvodné ′patches′, vyhľadať pôvodné nástroje, znova všetko nahrať a prearanžovať. Počas toho prišiel nápad pripraviť aj akustickú verziu, na ktorú jedinečným spôsobom prispel aj harfový virtuóz Jakub Rizman. V nej sa objavuje aj perkusia z kovovej škatuľky plnej mliečnych psích zubov, duniaca drevená podlaha, alebo gumové kladivo udierajúce na kovovú bedňu. Possimiste taktiež prespievala vokálne party a preto sa v nahrávke objavujú čisté - oproti extraterestriálne znejúcim distortovaným vokálnym partom z originálu. Nečakane si sprievodný vokál zaspieval aj autor - podľa jeho vlastných slov je to "spev námorníka, odolávajúceho spevu vábiacej sirény".
---
Download
---
Apple Music
Spotify
Youtube Music
Deezer
Bandcamp
Amazon
Tidal
---
Singel
08/10/2020
12:16 min.
Music by Analogrunner
Lyrics by Possimiste
Vocals by Possimiste, Analogrunner
Composed in 2005 using Nord Modular G2 and Alesis MMT-8, rearranged in 2019
Mixed & produced by Analogrunner
Mastered by Tomáš Karásek at Gargle & Expel Studio, Praha, CZ
Harp played by Jakub Rizman (2)
Vocals recorded at Poppstöðin, IS / Underhill Studio, SK
Acoustic drums, percussion, FXs recorded at Underhill Studio (2)
Cover design by Mellow
Special thanks to Mirsad Kurtovic and his Nord Modular G2 🙂
V médiách –
Klip "Haze Of Sirens" od Analogrunnera je obrazem hlubin temných pocitů.
Celý článok
---
Video –
---