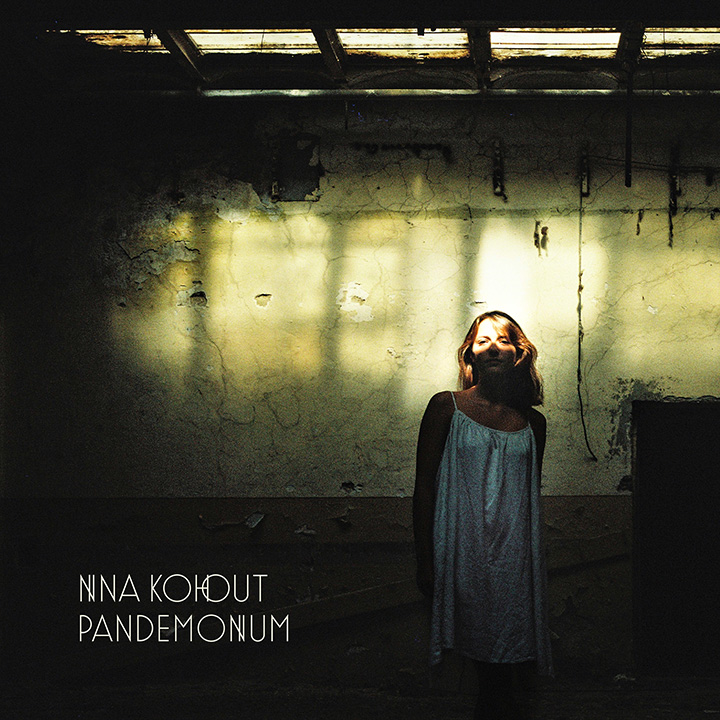 DR-083
NINA KOHOUT prichádza na debutovom EP s novým, väčším a experimentálnejším zvukom. Zatiaľ čo jej prvotina Blue Sunray nesie farbu krehkej akustiky, na Pandemonium posúva možnosti zvuku, hudobnej poslušnosti a sónickej výpravnosti za svoje doterajšie hranice. Je to nahrávka, na ktorej si Nina stavia unikátny svet, vytvárajúci napriek vzájomnej odlišnosti skladieb zvláštny, miestami nekomformný, inokedy nádherný harmonický celok. Práve kvôli pestrofarebnosti a unikátnej kompozícii a zvuku jednotlivých piesní prináša toto EP na scénu žánrovo nezaraditeľný hudobný prírastok. "Pandemonium, ako neurčitá hranica imaginárneho so skutočným, šialenstva so zdanlivo zdravým rozumom, nech to značí už čokoľvek. Pandemonium ako zmätok, nezhubný hurikán farieb a emócií, teda zrkadlo toho, kto som a kým som odjakživa ako človek bola. Viac ako svetu som v tejto pandem(on)ickej nahrávke najmä sebe ukázala ako znie hudobný ekvivalent k mojej osobe, k persone citlivo cítiaceho jednotlivca žijúceho na planéte, ktorej nie tak úplne vždy rozumie," hovorí na margo Nina. EP obsahuje 4 jedinečné skladby, 3 z nich sú otextované v anglickom jazyku a jedna je v slovenčine. Za zvukom EP producentsky stojí okrem Niny aj Vlado Ďurajka (AUTUMNIST), ktorý sa postaral o skladbu Pandemonium a Lucas Armstead, ktorý spoločne s Ninou produkoval singel Moonlight.
---
Vinyl
CD
Download
---
Apple Music
Spotify
Youtube Music
Deezer
Bandcamp
Amazon
Tidal
---
EP
02/02/2022
15:26 min.
Music and lyrics by Nina Kohout except (3) music by Nina Kohout and Vlado Ďurajka
All tracks produced by Nina Kohout with Lucas Armstead (2) and Vlado Ďurajka (3)
Mixed by Matúš Homola (1, 4) Lucas Armstead (2) Vlado Ďurajka (3)
Recorded at Men at Sound Studio, Trenčín, Slovakia by Matúš Homola and at Fallgrapp Studio, Dubnica n/V, Slovakia by Jureš Líška
Mastered at Gargle & Expel, Prague, Czechia by Tom Karásek
Cover photo by Natália Mikulášová
Design by Vlado Ďurajka (Autumnist)
—
Nina Kohout – voice, piano (2), electric guitar (3), string arrangement (1, 2), Lucas Armstead – electric guitar (2), Peter Kohout – bass clarinet (2, 3), Michal Pagáč – violin (1, 2), string arrangement (1, 2), Pavol Líška – violin (1, 2), Dominik Tuchyňa – violin (1, 2), Daniel Pastorek – double bass (1, 2, 3), Matúš Homola – drums (3), Dalibor Kocian/Stroon – vibraphone (2)
V médiách –
Nina Kohout: Na slovenské scéně je objev nového talentu důvodem k oslavě.
Celá recenzia
What does one eighteen-year-old Slovak have in common with Tom Holland?
Celá recenzia
---
Video –
---