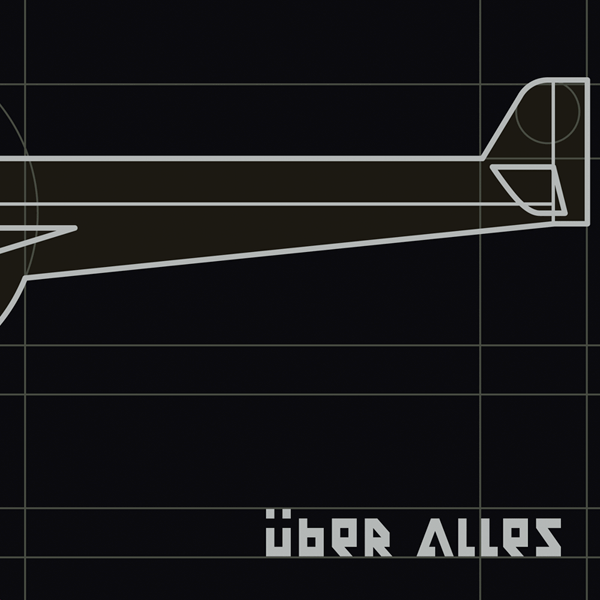 DR-020
Indie/shogaze/psychorebeli z Východného pobrežia vedú svoju osobnú sonickú vojnu namierenú proti svetu ešte s väčšou vervou a nasadením. Nová zbraň EP Über Alles je v mnohých ohľadoch temnejšia a surovejšia ako ich debut, ktorý sa v porovnaní so svojim nasledovníkom javí ako príjemná populárna hudba. JELLY BELLY do nahrávok premietli všetku svoju zlosť, vášeň a frustrácie (napr. aj tú z finálovej prehry Vežet Košice v boji o majstrovský hokejový titul 2012), vložili do nich svoje peniaze, energiu a životy… Über Alles nie je skutočne žiadna zábava. NYC / MCA, Tobruk, Vegas, Dublin, Berlin. Päť skladieb je možné interpretovať ako soundtrack nikdy nenavštívených miest, je možné ich interpretovať ako mapu miest kľúčových konfliktov, ktoré sa mohli udiať v skutočnosti, alebo ktoré sa mohli udiať len v mysliach.
---
12'' Vinyl
Download
---
Bandcamp
---
EP
Vydané: 01.09.2012
Dĺžka: 21:23 min.
Recorded, mixed and mastered at MenAtSound Studio, Trenčín, Slovakia by Mates Homola and Karol Mikloš.
Additional mastering by Anders Peterson / GS Mastering & Post, Stockholm, Sweden.
Artwork by Ján Vasilko and Jozef Tušan.
Tracks –
Recenzie –
Jednadvacetiminutová nahrávka tak působí jako dráždidlo i droga zároveň – je velmi snadné podlehnout tomu, si ji pustit znovu, a najednou zjistit, že už jede do sluchátek třeba počtvrté a stejně se nedostavuje pocit přesycení. Nesmírně inspirativní deska.
Celá recenzia
Extázi jsem neměl už opravdu strašně, strašně dlouho. 80. a 90. léta kdy se třeba v Manchesteru ale i v jiných britských městech začaly sbližovat kytarová psychedelická hudba s hudbou taneční, tak tuhle atmosféru jsem tam na vlastní kůži taky nezažil. Jenže. To je jedno. Jsme v roce 2013 a loni v září vypustili Jelly Belly další EP pozdrav. Jsme tady a teď a na téhle desce to všechno zní nesmírně parádně a současně.
Celá recenzia
Zdá sa, že Jelly Belly našli okrem svojho výrazu aj ideálny formát na vydávanie svojich nahrávok. Pri formáte dvadsaťminútovej EP platne je totiž jednoduchšie nahrať ucelené a vyrovnané dielo, ako pri plnohodnotnom albume. Jelly Belly sa tak už druhý raz podarilo nahrať EP bez slabého miesta. A to je vždy lepšie, ako celý album vypchatý vatou.
Celá recenzia
---