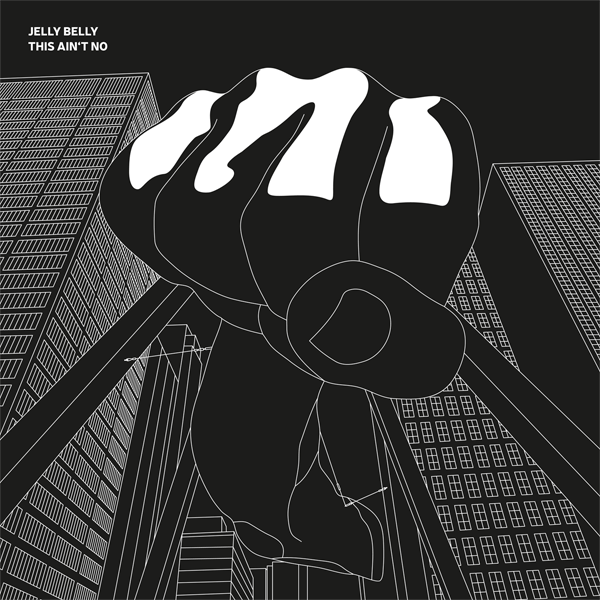 DR-035
Medzi jedným novembrom a nasledujúcim októbrom sa JELLY BELLY podarilo zaznamenať atmosféru dinosaurej kapely. S malým množstvom bielej farby vytvorili platňu This Ain't No. Zárezy na nej sa volajú Michigan Central Station, T, sqwo?, Blues a New Border. Predstavujú symboly, monumenty, jazyky a remeslá mesta miest - Detroitu. Iggy Pop, Diana Ross, Madonna, Detroit Red Wings, všetci rodáci z downtownu alebo pripojených predmestí, ktoré v chalanoch z JELLY BELLY vyvolávajú nepravdepodobnú podobnosť s minulosťou, prítomnosťou i budúcim časom ich domova. Do zvuku, ktorý reprodukujú pomocou gramofónovej technológie schovali tlkot nevetranej dodávky, točivý moment práčky, perúcej týždeň zafajčené oblečenie, rytmus prázdnych pohárov dopadajúcich na drevený stôl, vysoké frekvencie aparatúry žijúcej si svoj vlastný život, tristo vlakových nádraží, pol storočia železiarní Košice a dva milióny sprostých slov. This Ain't No venujú všetkým osobám, miestam a mestám, ktoré formovali ich myslenie.
---
Vinyl LP
Download (free or €?)
---
Bandcamp
---
EP
11.11.2015
21:58 min.
Composed, recorded and produced by Jelly Belly.
Recorded and mixed at Men-at-sound Studio, Trencin, Slovakia by Mates Homola.
Mastered at Ghostsounds Mastering & Post, Stockholm, Sweden by Anders Peterson.
Artwork by Danka.
Dedicated to all places and cities which formed our minds.
Tracks –
Recenzie –
Deska roku (stále u nás marně hledám podobnou kapelu).
Celá recenzia
Což ovšem není volání po nějakém zefektnění nebo přímém úderu, jaký by naznačoval obal, spíš by to chtělo špičky jehel občas umístit víc k povrchu téhle kupky jinak vonného a nejednodruhového sónického sena, kterou je asi potřeba si pustit v noci na sluchátka a prostě ji drhnout dokola a dokola dokud se nedostanete k oněm skrytým silicím a veškerým jemným odstínům.
Celá recenzia
---